Check out this spacious 2bed/2bath floor plan!
1199 E Santa Fe, 253
Gardner, Kansas 66030
Purchase Price

$95,900
While Zippy is our preferred home loan lender, homebuyers are not required to finance their home through Zippy and can use the home loan lender of their choice.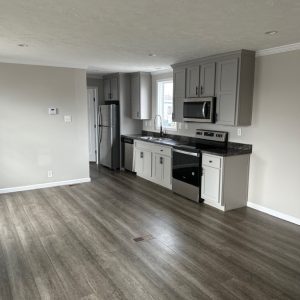 This home offers a simple minimalistic feel with plenty of space to get creative with your interior designing. Both bedrooms of this home are located on separate ends of the home with access to their own washrooms. The space in these bedrooms, like the rest of the home, has been designed for maximum use of real estate.
This home comes with two off-street parking spaces, professionally installed sod (**coming this spring) for a beautiful yard and access to all the amenities that Conestoga has to offer! This includes a new state of the art playground, rentable club house with full kitchen, 3 basketball courts, 2 off-leash dog parks, illuminated exercise trail, gazebo & grilling area, storage lot, 2 pools with a large sunning deck and storm shelters.
Availability is LIMITED, but we have many NEW HOMES coming this year!
Call Now–> (913) 361-5689, Select Option "1" for Sales
This home offers a simple minimalistic feel with plenty of space to get creative with your interior designing. Both bedrooms of this home are located on separate ends of the home with access to their own washrooms. The space in these bedrooms, like the rest of the home, has been designed for maximum use of real estate. This home comes with two off-street parking spaces, professionally installed sod (**coming this spring) for a beautiful yard and access to all the amenities that Conestoga has to offer! This includes a new state of the art playground, rentable club house with full kitchen, 3 basketball courts, 2 off-leash dog parks, illuminated exercise trail, gazebo & grilling area, storage lot, 2 pools with a large sunning deck and storm shelters. Availability is LIMITED, but we have many NEW HOMES coming this year! Call Now–> (913) 361-5689, Select Option "1" for Sales