THE MARBURY IS THE PERFECT PLACE FOR TWO!! THIS 2 BED 2 BATH MODEL IS NOW AVAILABLE!!
THIS ENERGY EFFICIENT 2 BED 2 BATH HOME IS READY FOR IMMEDIATE MOVE IN!! CALL AND SCHEDULE A TOUR TODAY!!, 110
Gardner, Kansas 66030
Purchase Price

$82,900

Rent Price

$1,199/month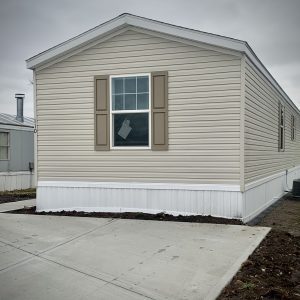 Beat the inflated housing market by investing in a quality made manufactured home at nearly half the cost per square foot!
This 2bed/2bath floor plan is built with Clayton's Energy Smart® Home package which includes 2X6 exterior walls, zone3 insulation specifications, argon double hung vinyl windows, and an Ecobee Smart Thermostat. The interior has fully finished drywall throughout with wood style linoleum and carpet floorings. The kitchen features lots of cabinet space, black kitchen appliances, and a spacious wrap around counter top. Washer and dryer hookups available in laundry room with overhead rack. Master suite has its own bath and walk-in closet!
This home comes with two off-street parking spaces, professionally installed sod (**coming this spring) for a beautiful yard and access to all the amenities that Conestoga has to offer! This includes a brand new state of the art playground, rentable club house with full kitchen, 3 basketball courts, 2 off-leash dog parks, illuminated exercise trail, gazebo & grilling area, storage lot, 2 pools with a large sunning deck and storm shelters.
Availability is LIMITED, but we have many NEW HOMES coming this year!
Call Now–> (913) 361-5689, Select Option "1" for Sales
Beat the inflated housing market by investing in a quality made manufactured home at nearly half the cost per square foot! This 2bed/2bath floor plan is built with Clayton's Energy Smart® Home package which includes 2X6 exterior walls, zone3 insulation specifications, argon double hung vinyl windows, and an Ecobee Smart Thermostat. The interior has fully finished drywall throughout with wood style linoleum and carpet floorings. The kitchen features lots of cabinet space, black kitchen appliances, and a spacious wrap around counter top. Washer and dryer hookups available in laundry room with overhead rack. Master suite has its own bath and walk-in closet! This home comes with two off-street parking spaces, professionally installed sod (**coming this spring) for a beautiful yard and access to all the amenities that Conestoga has to offer! This includes a brand new state of the art playground, rentable club house with full kitchen, 3 basketball courts, 2 off-leash dog parks, illuminated exercise trail, gazebo & grilling area, storage lot, 2 pools with a large sunning deck and storm shelters. Availability is LIMITED, but we have many NEW HOMES coming this year! Call Now–> (913) 361-5689, Select Option "1" for Sales